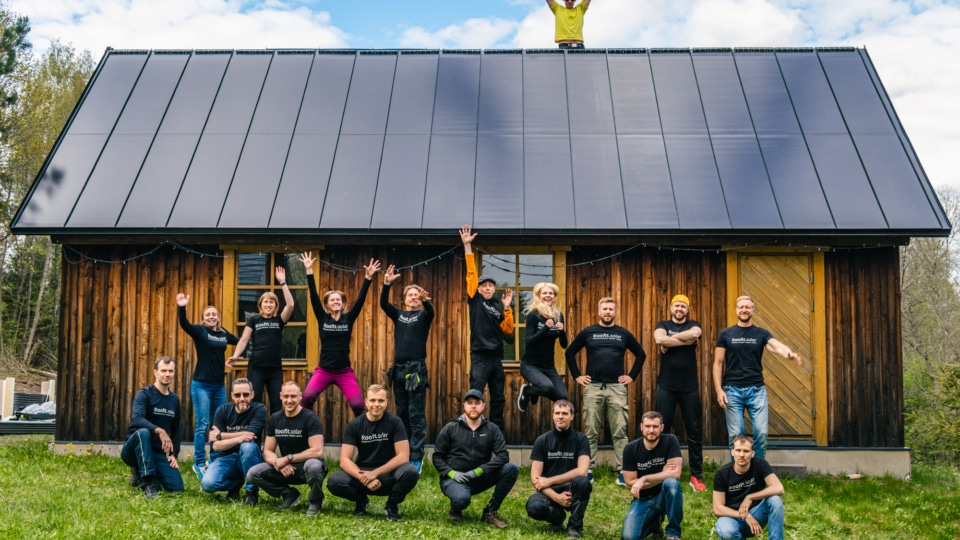 2022 has undoubtedly been a year of change for Roofit.Solar – in a great way! After two years of various global crises from COVID-19 to logistics challenges related to that, we are excited to have grown significantly over the past year – a big step toward our lifelong goal of helping build a cooler planet.
2022 has been filled with lots of events, fairs, and new partnerships for us, not to mention the new team members we welcomed this year. We have a lot to share! 
Before diving into them, let's take a look back at 2022 and shed some light on the world's most important news.
Looking back at 2022
Well, where should we start?
Just as the world was getting ready to go back to normal after COVID-19, the year started with the invasion of Ukraine and continued with the global energy crisis. 
Global climate warming kept sending warnings to all of us, the world's citizens, through wildfires and extreme temperatures this summer. Finding new and renewable clean energy resources and changing the overall energy strategy on a country level have never been that urgent. 
On the bright side, more people and companies across the world have switched to clean energies such as wind and solar. 
According to the S&P Global Top 10 Cleantech Trends in 2022 report:
Cost declines

due to technology evolution have triggered

new investments in renewable energy

.

As for solar, investors and governments expect continuously

lower capital investment

. 

Corporations accelerate their

investment in renewable assets

.
How is the situation in Europe in terms of the production and consumption of solar?
Regarding the installation numbers, 2022 marked the best solar history in EU history by

41.4 GW – 47% higher

than the previous year which was 28.1 GW, according to a

new report by SolarPower Europe

.

Germany, Spain, Poland, Netherlands

, and

France

are the top 5 solar markets in 2022.

Portugal

(3rd on the list) and

Sweden

(10th on the list) are the newcomers. 

The EU's solar power generation fleet saw a noteworthy increase in 2022. When it was 167.5 GW in 2021, it reached

208.9 GW

with an

increase of 25%

.

The Netherlands is in the first place

, ahead of Germany and Denmark, in terms of

solar power per capita

.
The top five countries setting new records during the summer of 2022 for the share of electricity they produced from solar are Greece, Romania, Estonia, Portugal, and Belgium.
In the US, as of October 2022, President Joe Biden signed into law new legislation supporting larger investments in clean energy.
So, what about Roofit.Solar? 
How have all these 2022 trends in solar production, investment, and consumption affected us, and what are the results?
Without further ado, here is the 2022 solar news from Roofit.Solar for you to enjoy!
Solar news loaded – Roofit.Solar Clients, 2022
From residential homes to commercial-scale projects, Roofit.Solar has gained more clients wanting to harness the sun's power to reduce soaring energy bills while protecting the planet.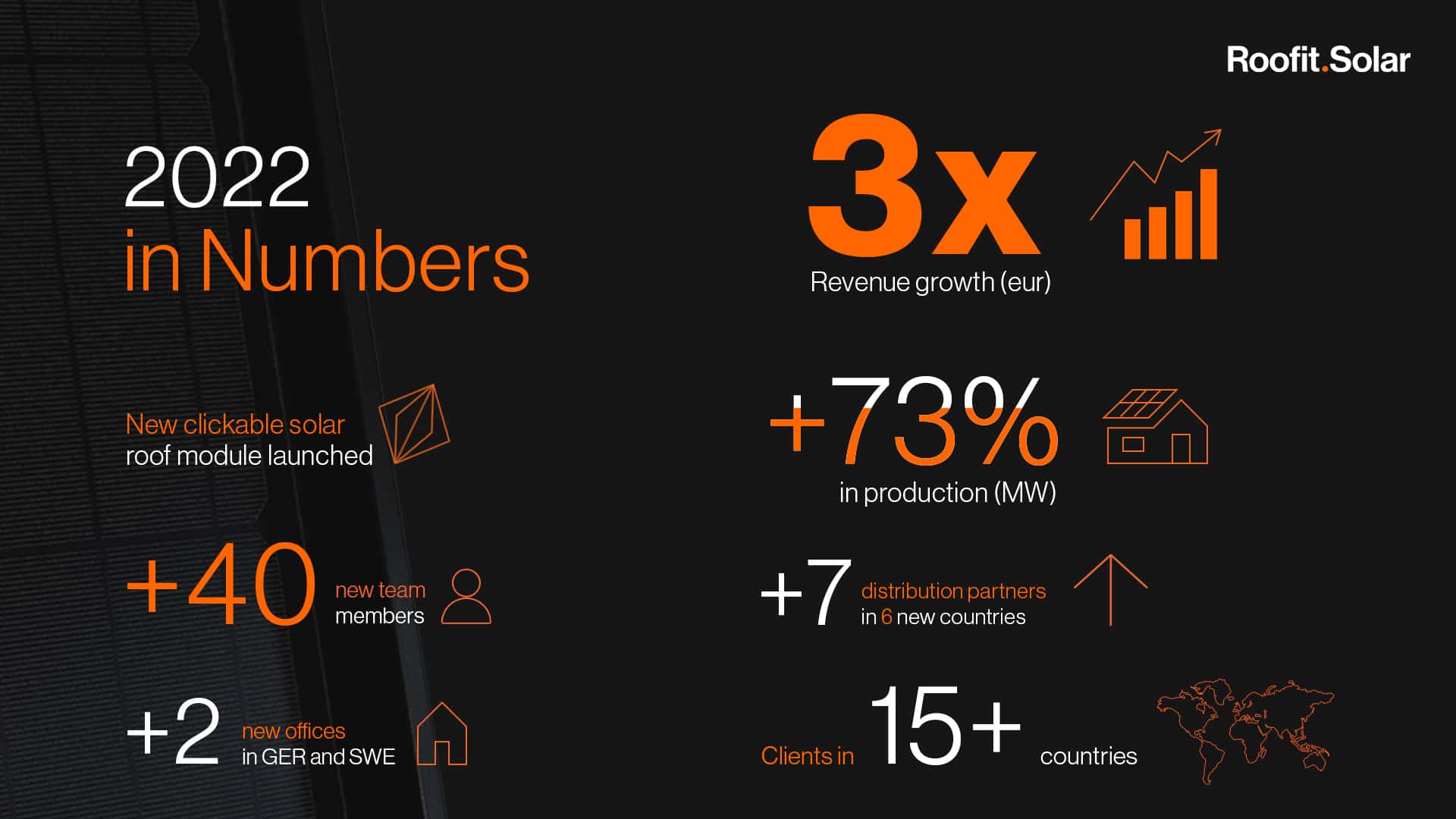 The great news is that, with clients from 15+ countries across the continent, some of which are Sweden, Estonia, Germany, Norway, Austria, and Denmark, we have increased our revenue by 3 times this year compared to 2021!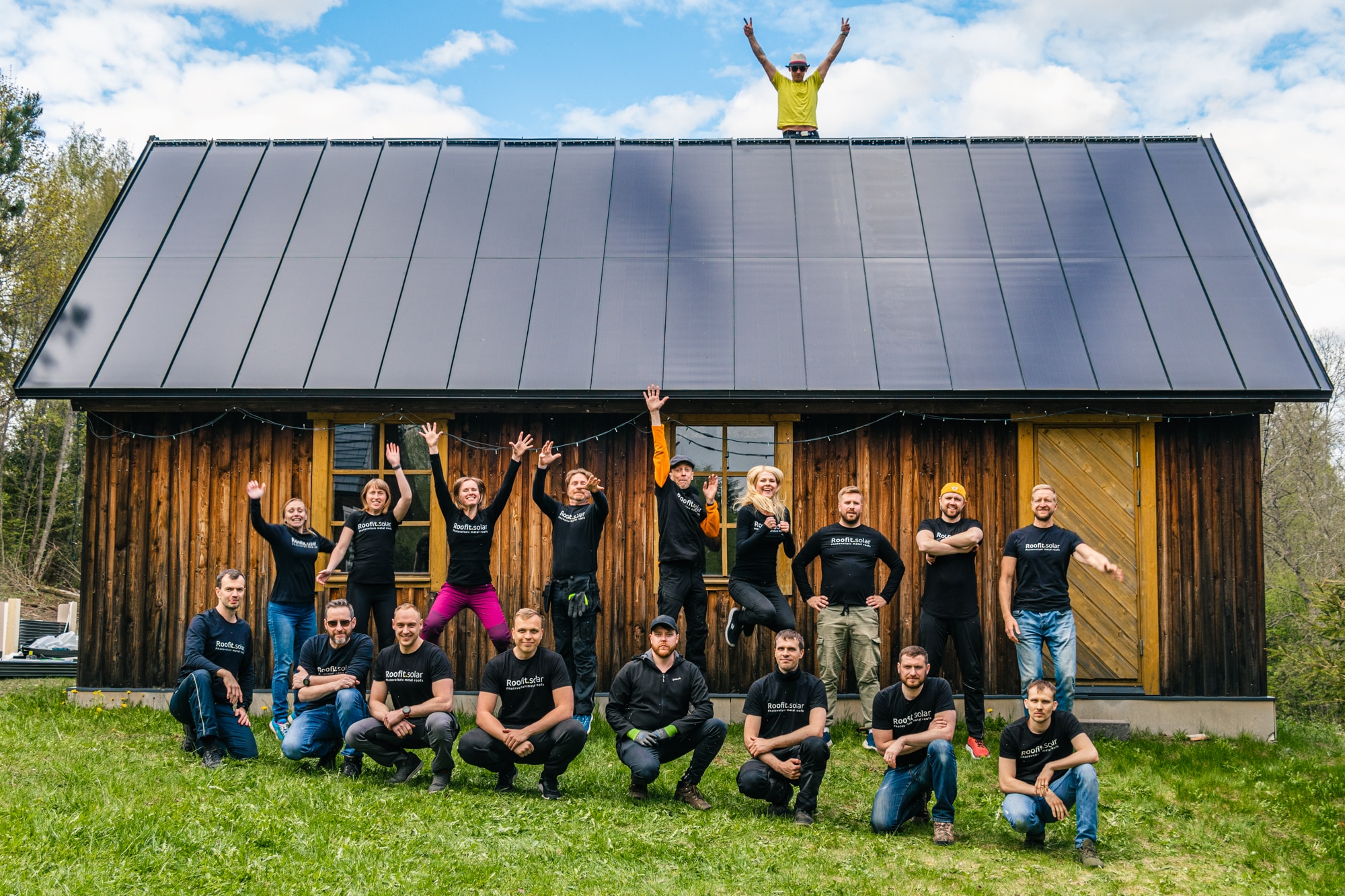 New countries (and even maybe continents) are on our list for 2023 and 2024 – stay tuned to hear more news from us.
What are the most memorable 2022 projects?
If we had to summarize 2022 with three words, these would be "many," "outstanding," and "projects". 
The University of Tartu
To start with, the University of Tartu is a project that makes us proud. 
The reason is, it is not only a well-established education institution attracting many local and international students every year but it's also a witness of history with its elegant main building developed in the 19th century.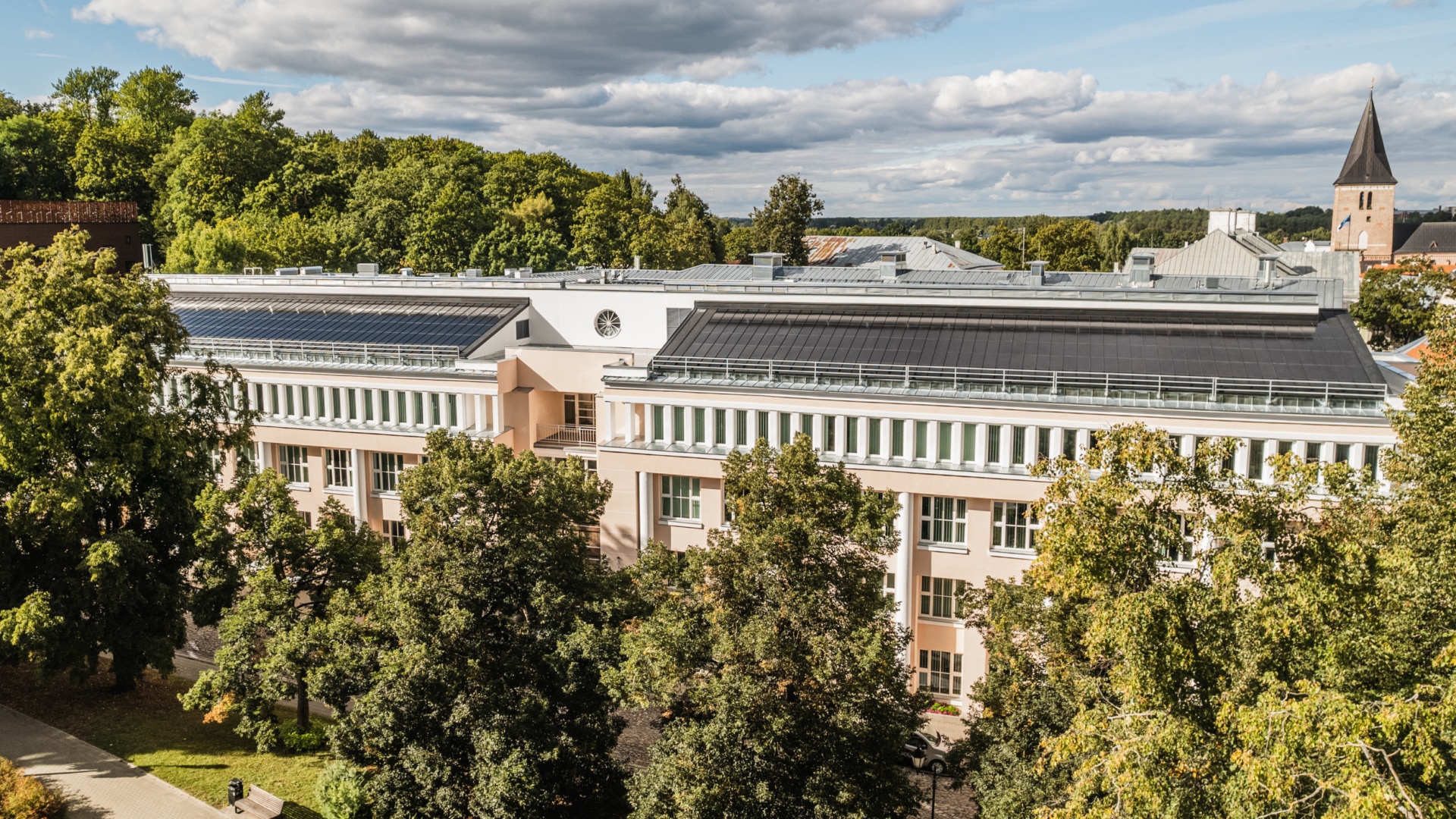 The historical buildings of the university are part of the European Heritage Label list as an "embodiment of the ideas of a university in the Age of Enlightenment". Therefore during the planning and installation processes, our main priority was to protect every inch of the building – as we always do. 
National Library of Estonia
2022 has been the year of thrilling historic projects and inspirational residential and commercial-scale ones. The National Library of Estonia was one of them.
Procurement for the National Library of Estonia project had already started in the last quarter of 2020. At the beginning of 2022, we got great news confirming our collaboration! 
As part of this project, Roofit.Solar rooftops were installed in three roof areas!
The due date for the entire renovation is 2025. 
Looking back to 2022, we were lucky to help many great people go solar. 
Here are some of our residential projects from 2022.
Residential Projects 2022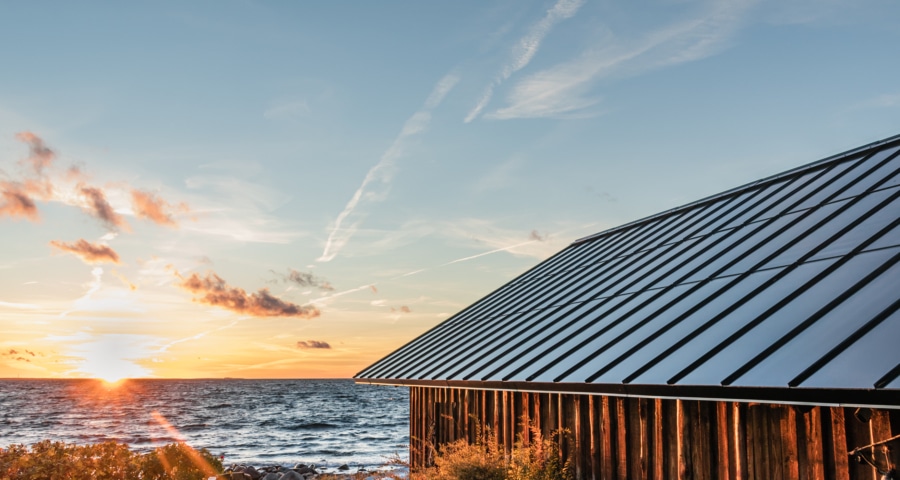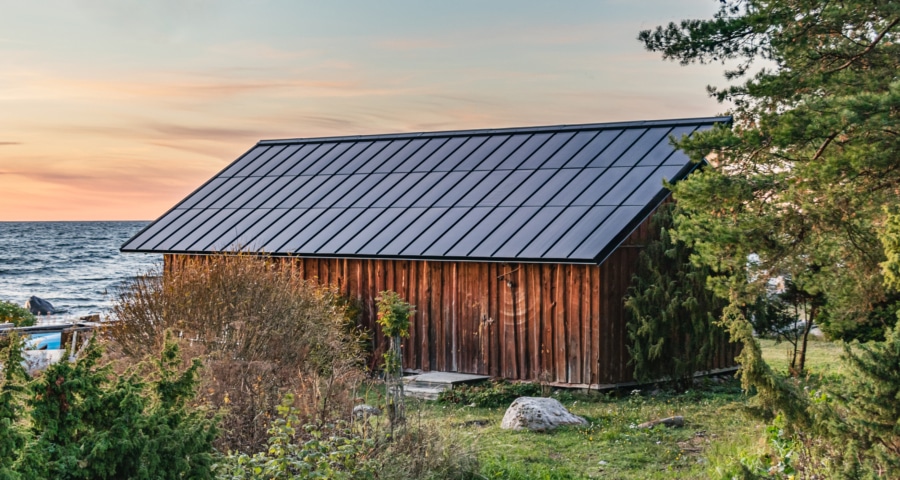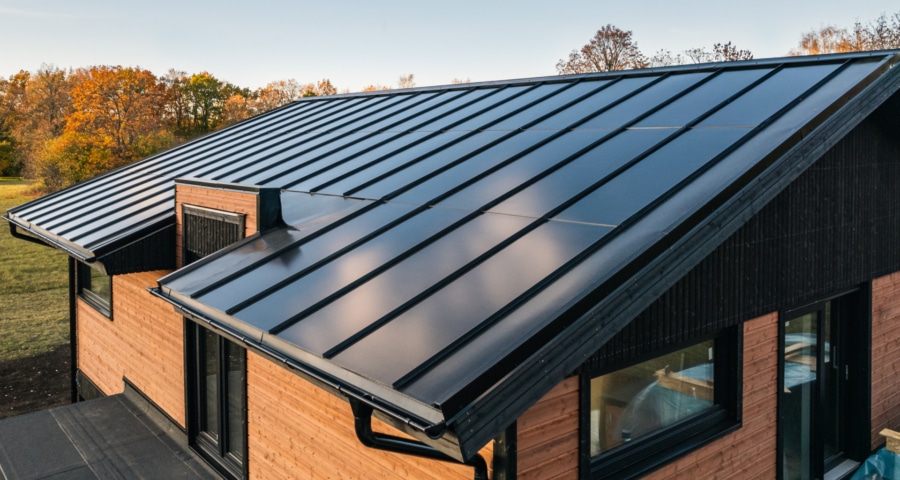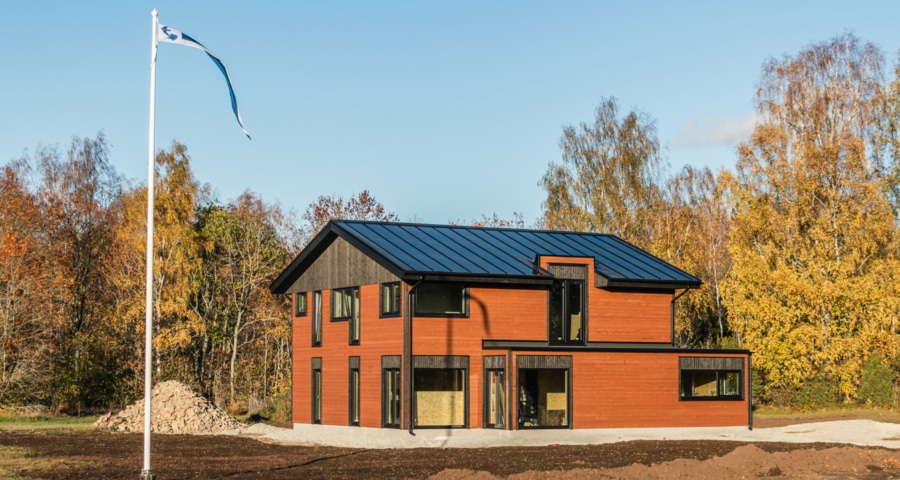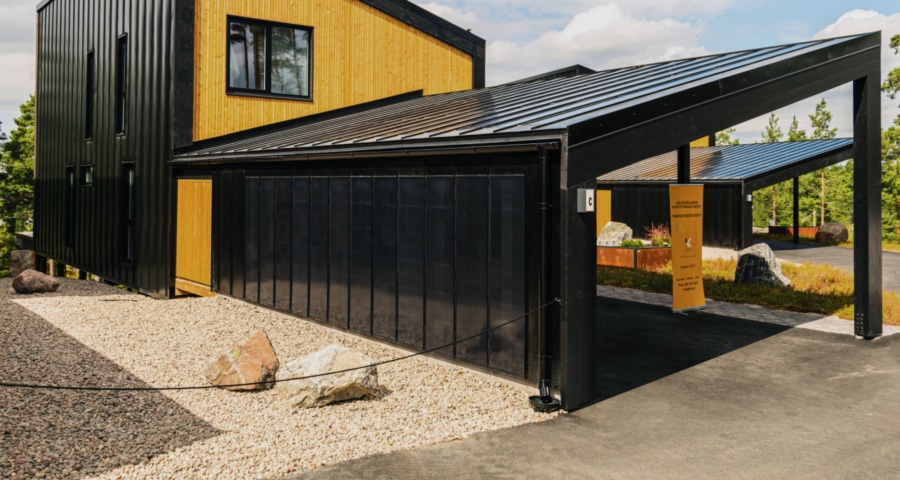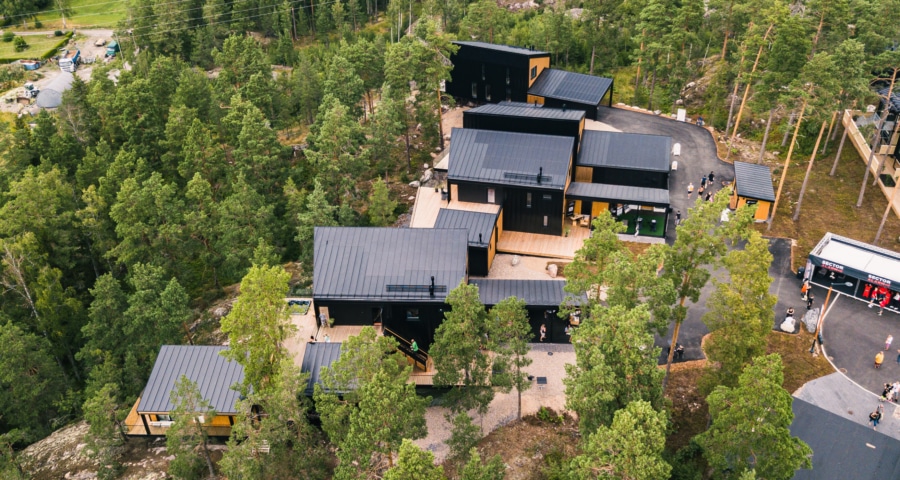 Meet our new partners from 2022
Meet our new partners from 2022
In 2021, we had distribution contacts with 10 companies with a number of first pilots in various countries. 
As of December 2022, Roofit.Solar has 17 distributors along with more contracts on the way.
Our new distributors are from Belgium, Bulgaria, Czechia, Latvia, Poland, Romania, Switzerland, and Turkey. 

Our other partners are in Austria, Canada, Denmark, Finland, the Netherlands, Norway, and Sweden.
If you want to learn more about our distributors, or you are interested in becoming one, have a look here.
More partnerships and fruitful collaborations in 2023 are on the way. Keep an eye on us to hear some big news in the near future!
What about the production side?
Here at Roofit.Solar, we currently offer two different types of solar roofs: 
Click Solar Roof Panels

Double Seam Solar Roof Panels
You can learn more about our products – their technology, rated power, efficiency, fire rating, dimensions, and more on our product page.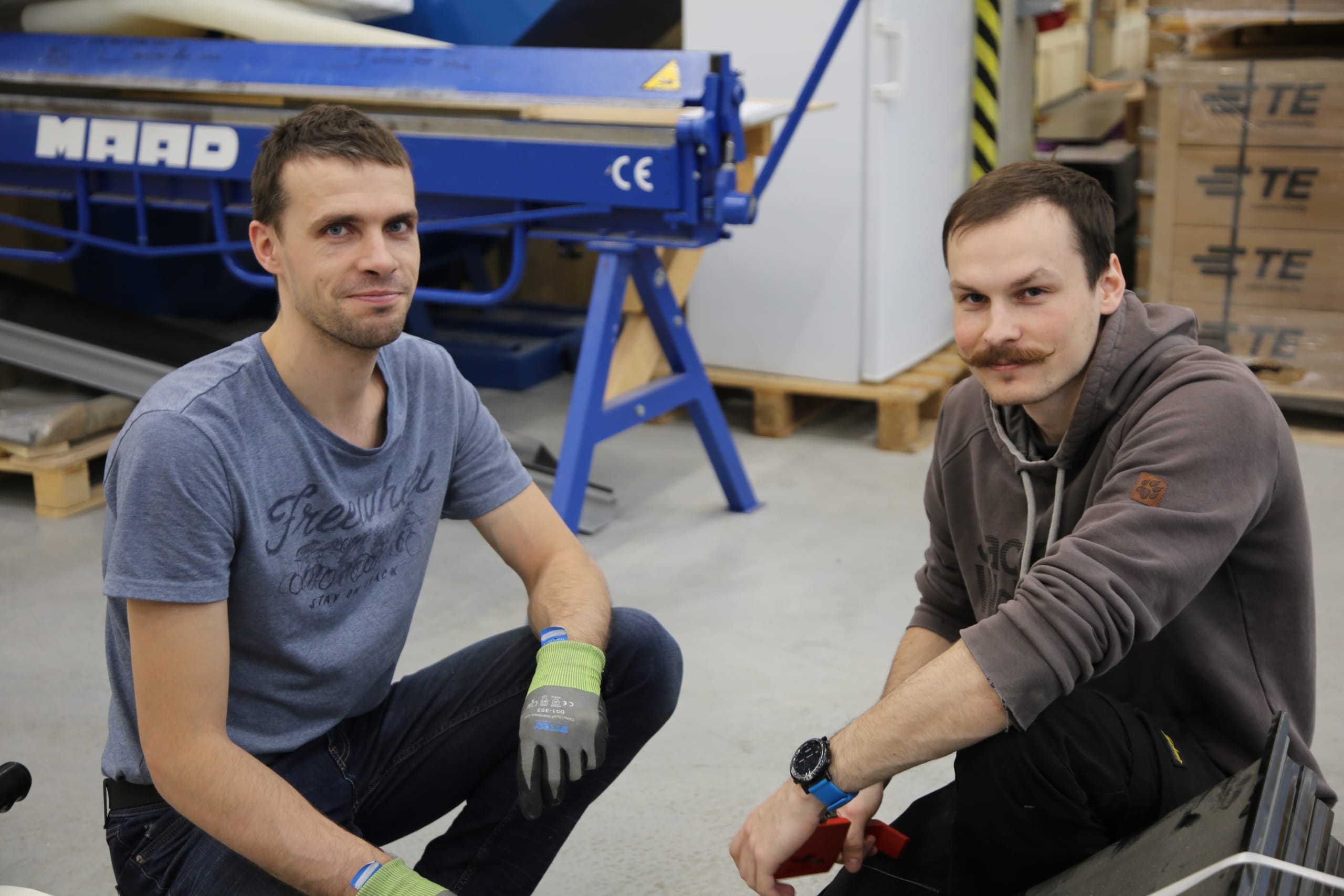 During 2022, we increased our production result by 73% and are planning to increase it even more! In 2021, we had 6 production specialists working directly on the production line. Today, this number increased to 15. 
As the "official teaser" of big news, we will launch new products in 2023 to meet more needs and increase the number of households and buildings using solar energy!
Stay tuned – follow us on LinkedIn and Facebook to be the first to hear.
Opening new offices and welcoming new team members
The rising trend of going solar combined with our high-quality and aesthetically pleasing products has had some consequences. 
Some great ones.
In January 2022, we opened our German office, followed by our Swedish office in June. 
Both teams grew quickly with the supervision of our German Country Manager, Georg Koch, and Swedish Country Manager, Eric Pettersson. 
Regarding our overall team growth, well, the numbers are dazzling!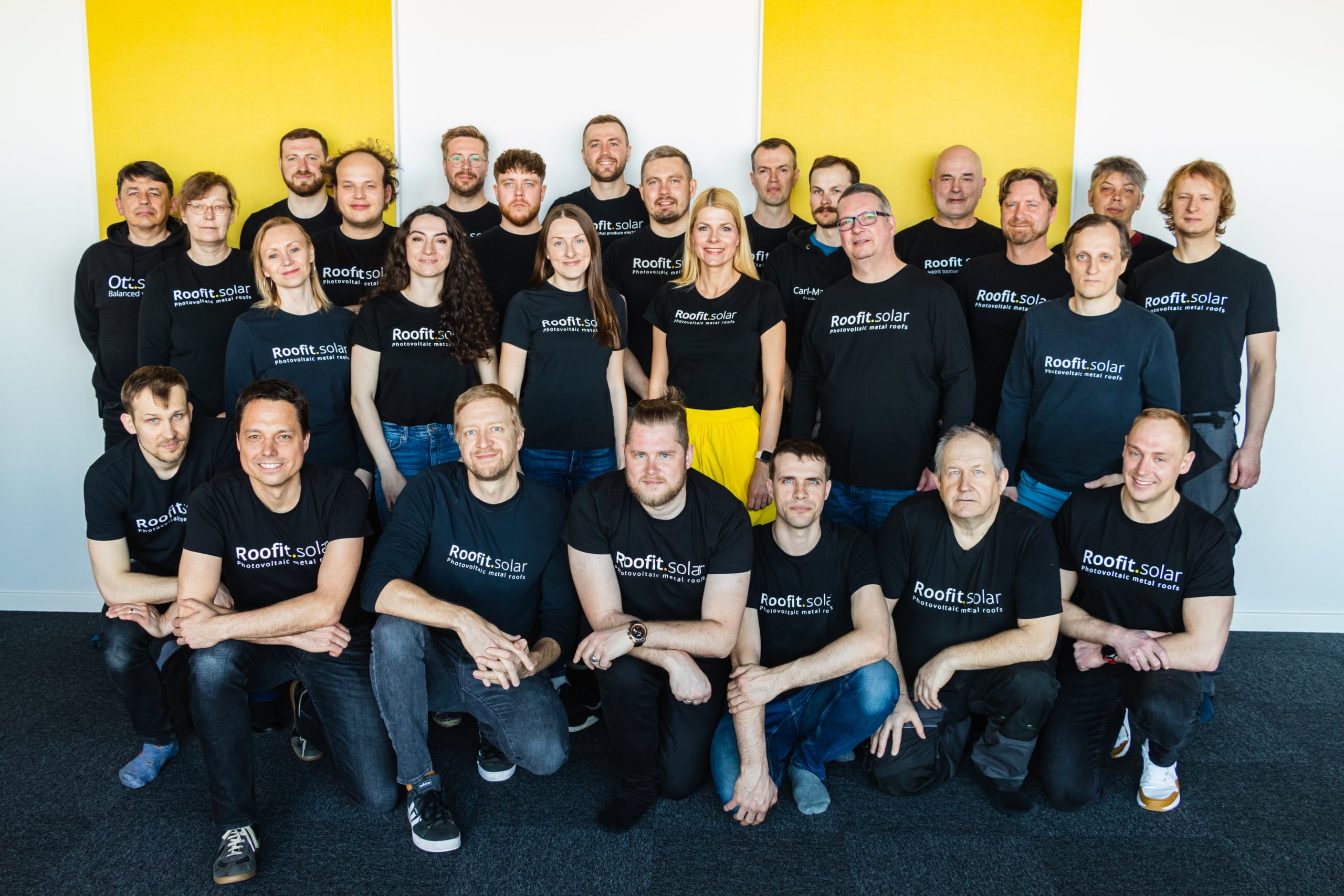 Here are some stats:
While the Roofit.Solar team had

30 members in 2021

, this number increased more than two times this year. Currently, we have

70 team members in Estonia, Sweden, and Germany

!

Our team includes 9 nationalities – Estonian, German, Swedish, Ukrainian, Austrian, Russian, British, Georgian, and Turkish. 
With new product lines coming up and ambitious 2023 plans being lined up, we are planning to grow more with new team members in various departments from production to sales. 
The 2022 News & Events
To say the least, it has been an incredibly eventful year for the team.
From industry fairs to roundtable discussions, Roofit.Solar has been on a rollercoaster of events, where we were lucky to meet lots of inspirational people. We also managed to convert some of them into solar fans!
Here is our 2022 agenda that covers everything, from the major events we participated in, to the news we were featured in.
January
January started with great news. Not only was our collaboration with the National Library of Estonia finalized, but the kickoff for the German expansion took place as well – willkommen im Team!

We are featured in

Silicon Canals

, as one of the 10 Estonian startups with large funding. 
Speaking of funding, you can read more about our Round A story here.
February
Our CEO and co-founder

Andres Anijalg

discussed smart ways of solar energy usage and types of solar batteries for Geenius Meedia. Listen to the podcast (in Estonian)

here

.
Want to take a deep dive into solar batteries? Read our article Everything You Need to Know about Solar Batteries.
Martin Kontus, our Head of Software Development and Information Systems, talked about the challenges in a startup environment along with some suggestions, for EAS (Enterprise Estonia). Read the article

here

.
March
Great news: The installation for the University of Tartu started in March!
April
We welcomed the Swedish team –

välkommen till teamet

!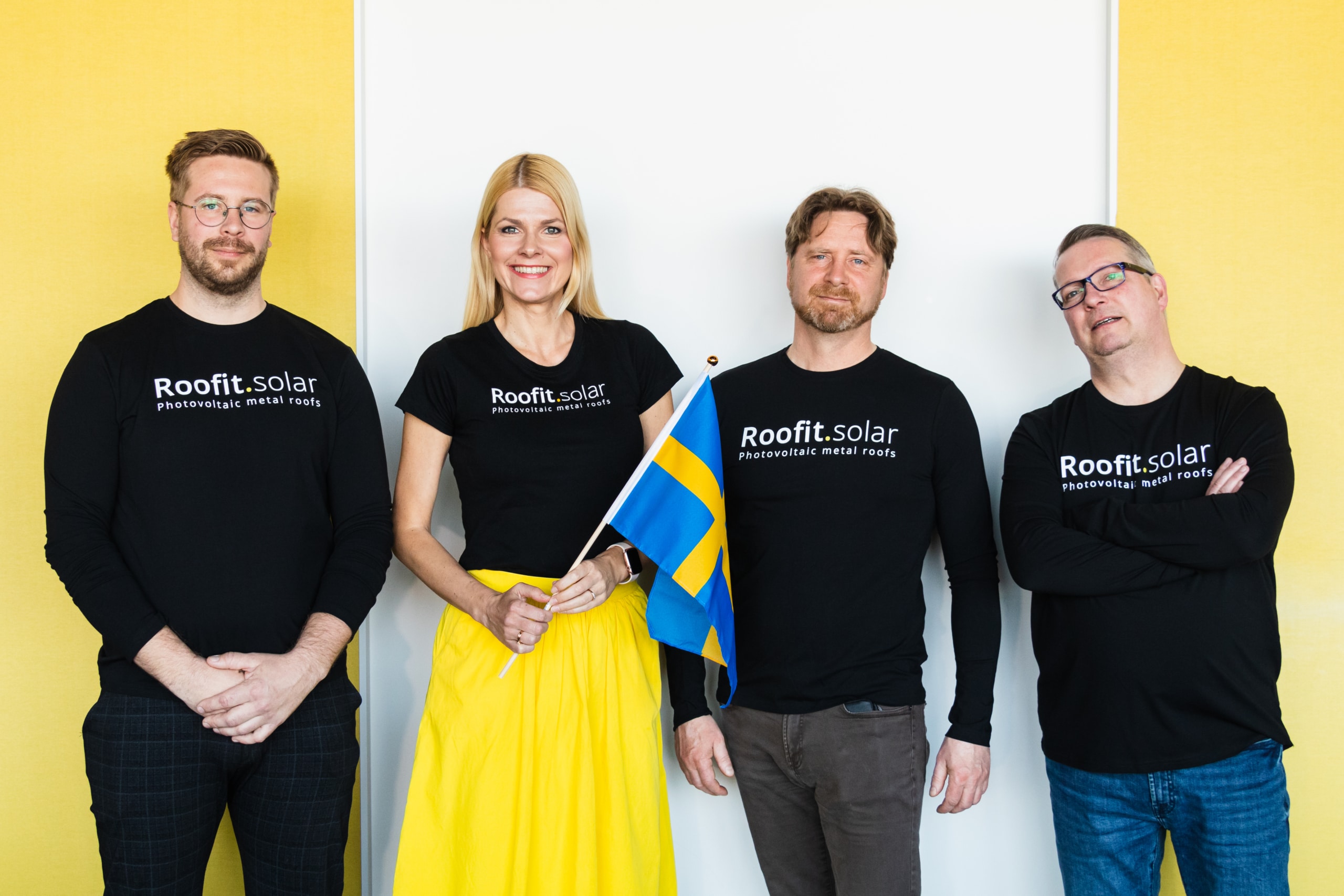 Our team participated in

Nordbygg

in Stockholm, Sweden – Northern Europe's biggest construction expo. Ready to introduce the Roofit.Solar brand to the Swedish market!

Helen Anijalg, our Export Manager, represented Roofit.Solar in the roundtable discussion initiated by Kaja Kallas, the Estonian Prime Minister.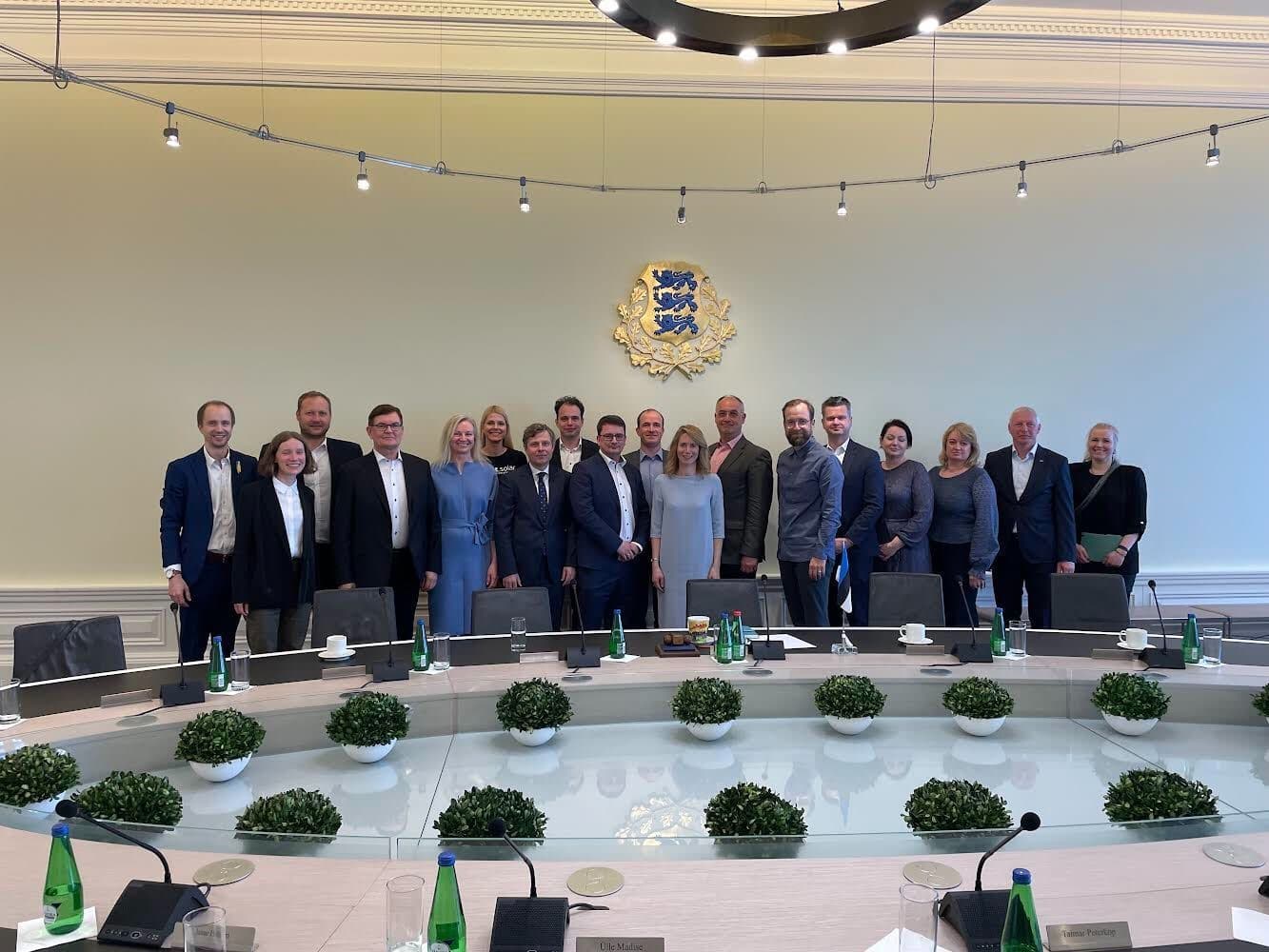 May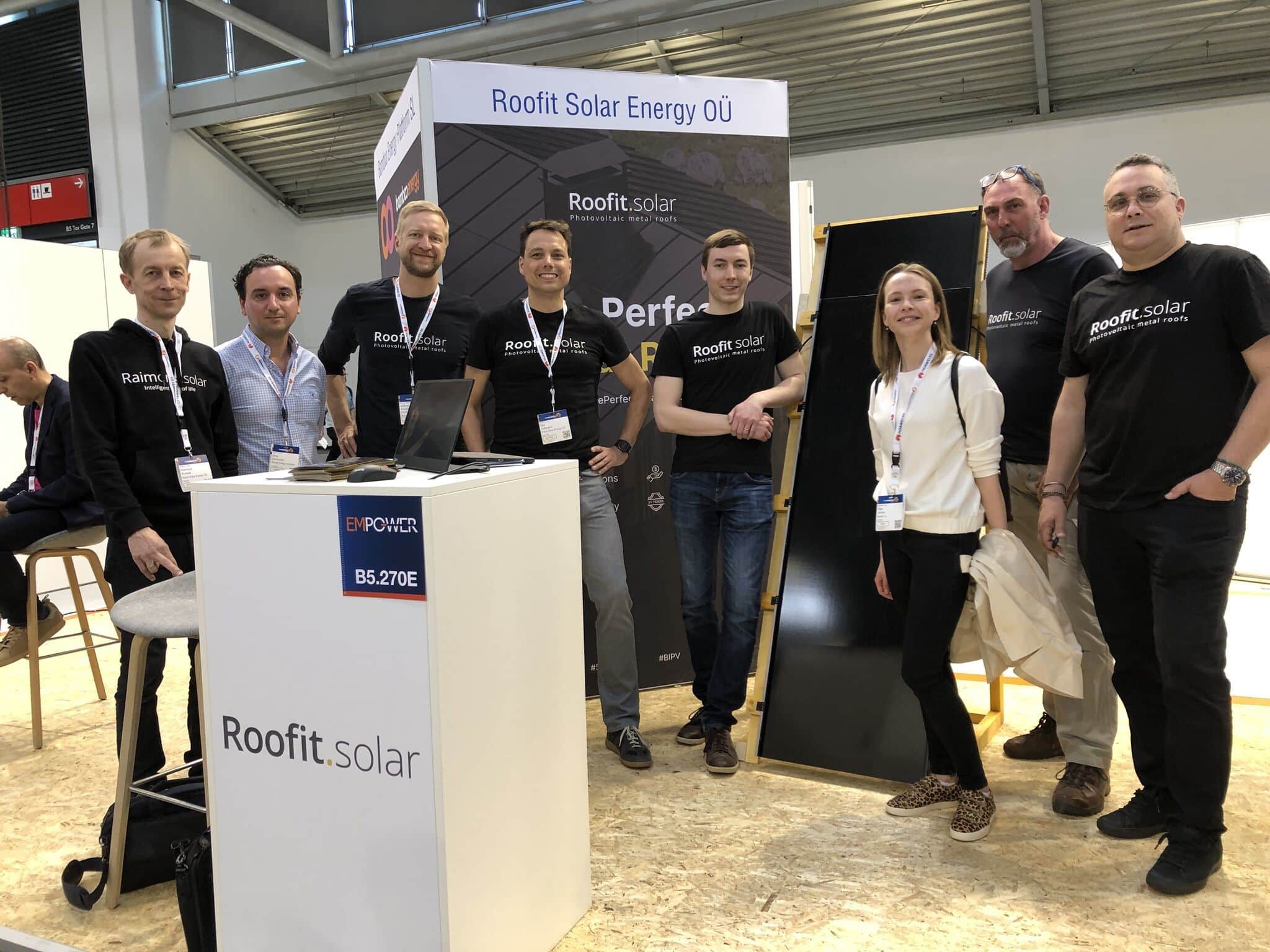 Helen Anijalg from the team took part in a high-level visit of Estonian PM Kaja Kallas and an Estonian business delegation to Gothenburg, Sweden.
June
Andres Anijalg discussed the challenges many startups face in their decisive growth phase. Listen to the podcast (Estonian) on

Spotify

,

Apple

, and

Google.

We initiated an open discussion and invited representatives of builders' and architect' associations, the members of Enterprise Estonia, and the Tallinn city government. We discussed the recent developments in the solar industry and our vision.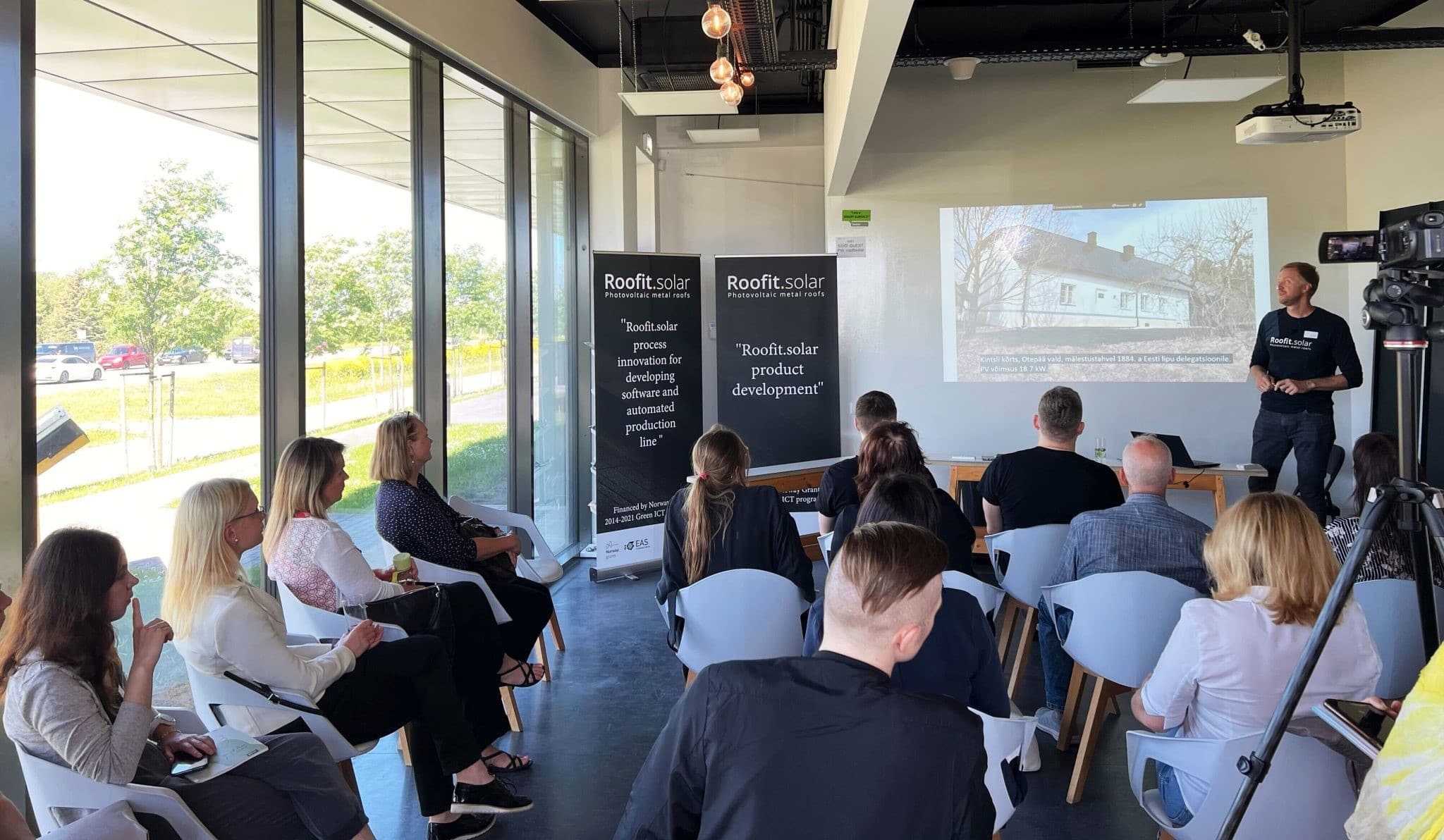 Our new Click product was developed with the support of Norway Green ICT funds. The first successful installation in the South of Estonia was already done!
July
We participated in the roofing and carpentry fair

DACH+HOLZ International

in Cologne, Germany. Excited to meet local roofers, clients, and partners and introduce our solutions!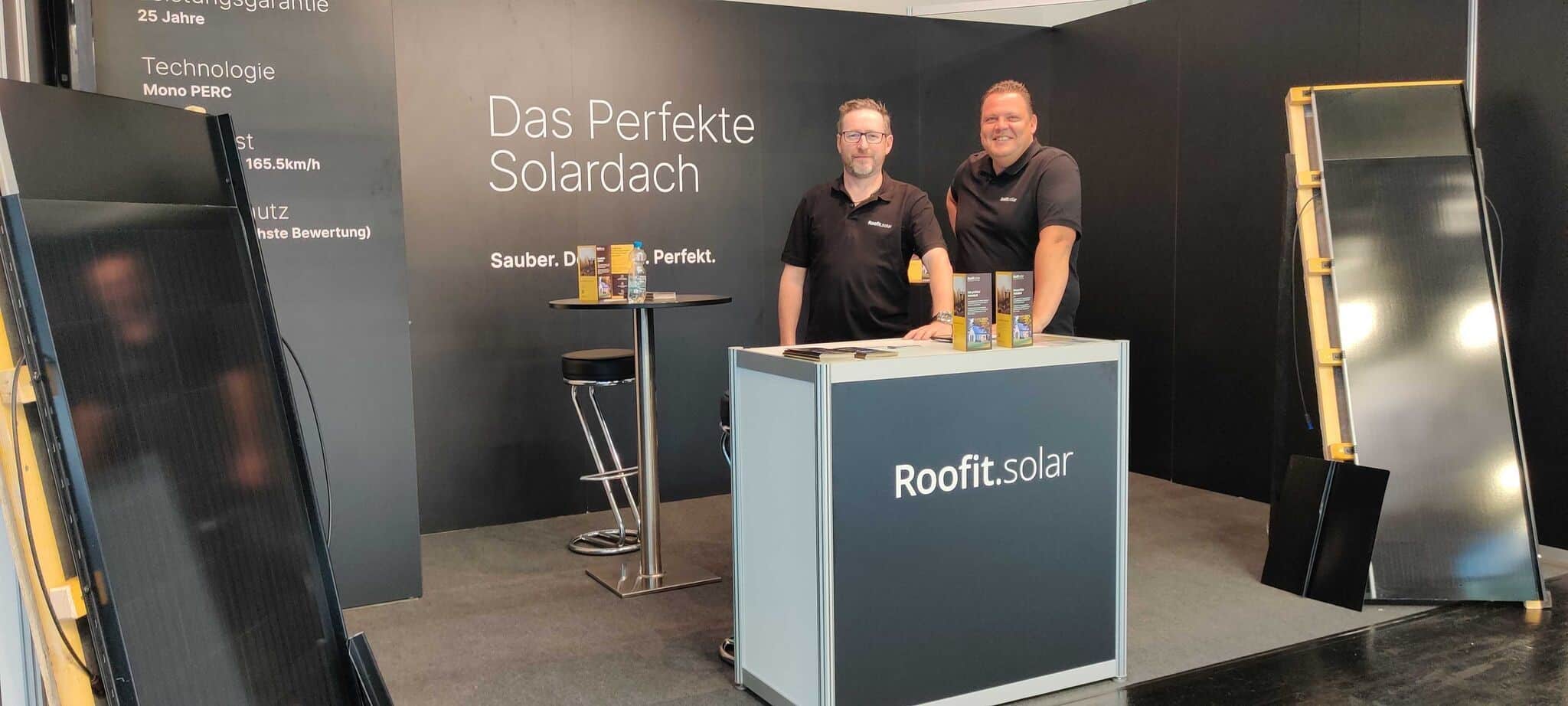 Andres Anijalg took part in

Ecosummit

in Berlin, Germany.
August
We had our summer days team gathering in

Järvamaa

, Estonia, where we had good food, good company, and definitely had a good time. We defined our company values while getting to know each other better through fun events.

Our team participated at

Suomen Asuntomessut

, an architecture and living fair in Naantali, Finland.
September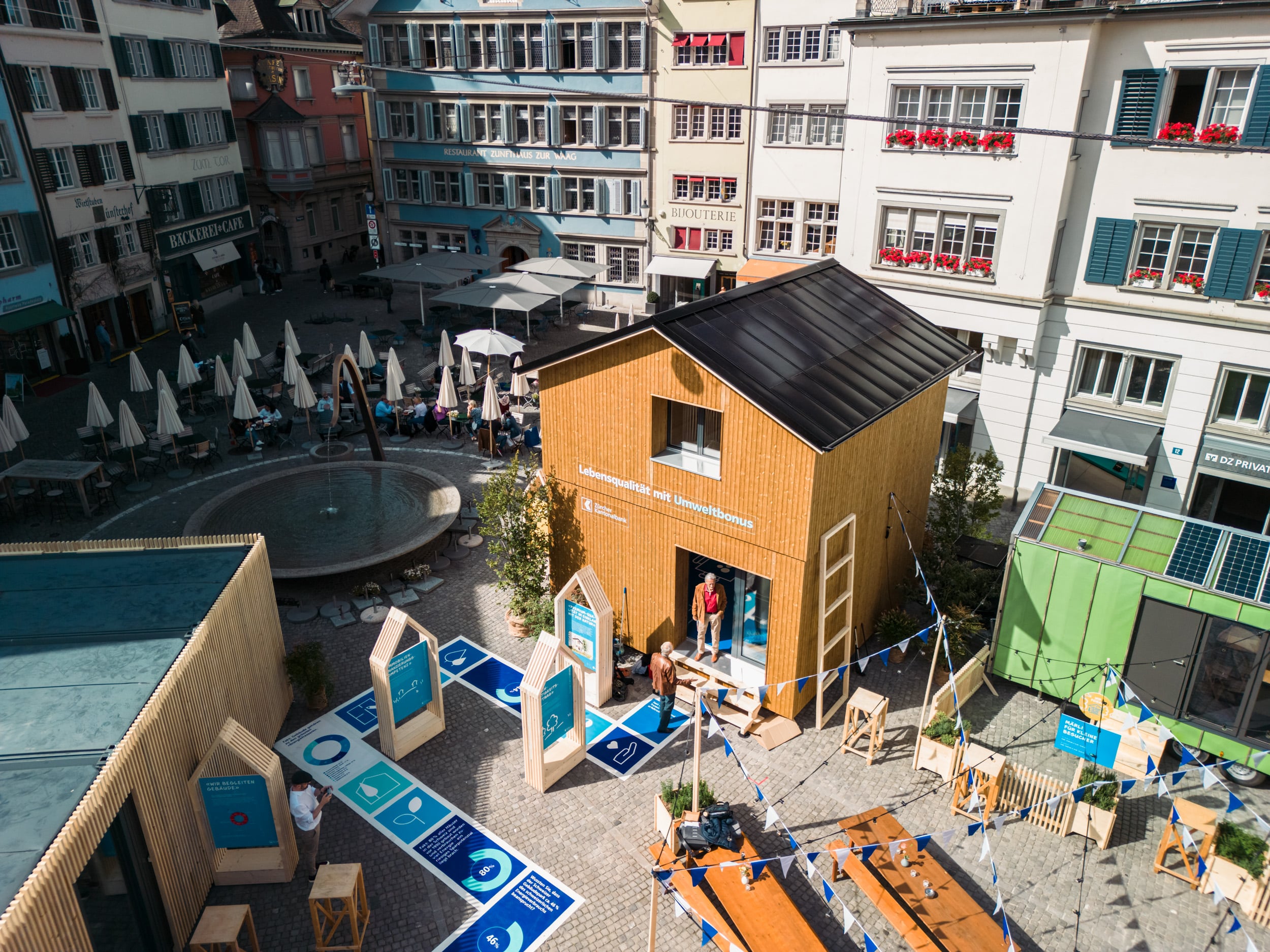 We visited the

Ruukki

factory to get familiar with the ongoing processes and agree on further cooperation steps. 

We joined the Norwegian Roofing Summit in Oslo with our partner, Solar Solution.

Roofit.Solar was one of the semi-finalists at the

Bits & Pretzels

startup competition in Munich, Germany! Andres Anijalg introduced our story, our products, and our lifelong mission of helping build a cooler planet.  It was a great experience pitching Roofit.Solar in front of so many amazing people and being on the same stage as Arnold Schwarzenegger!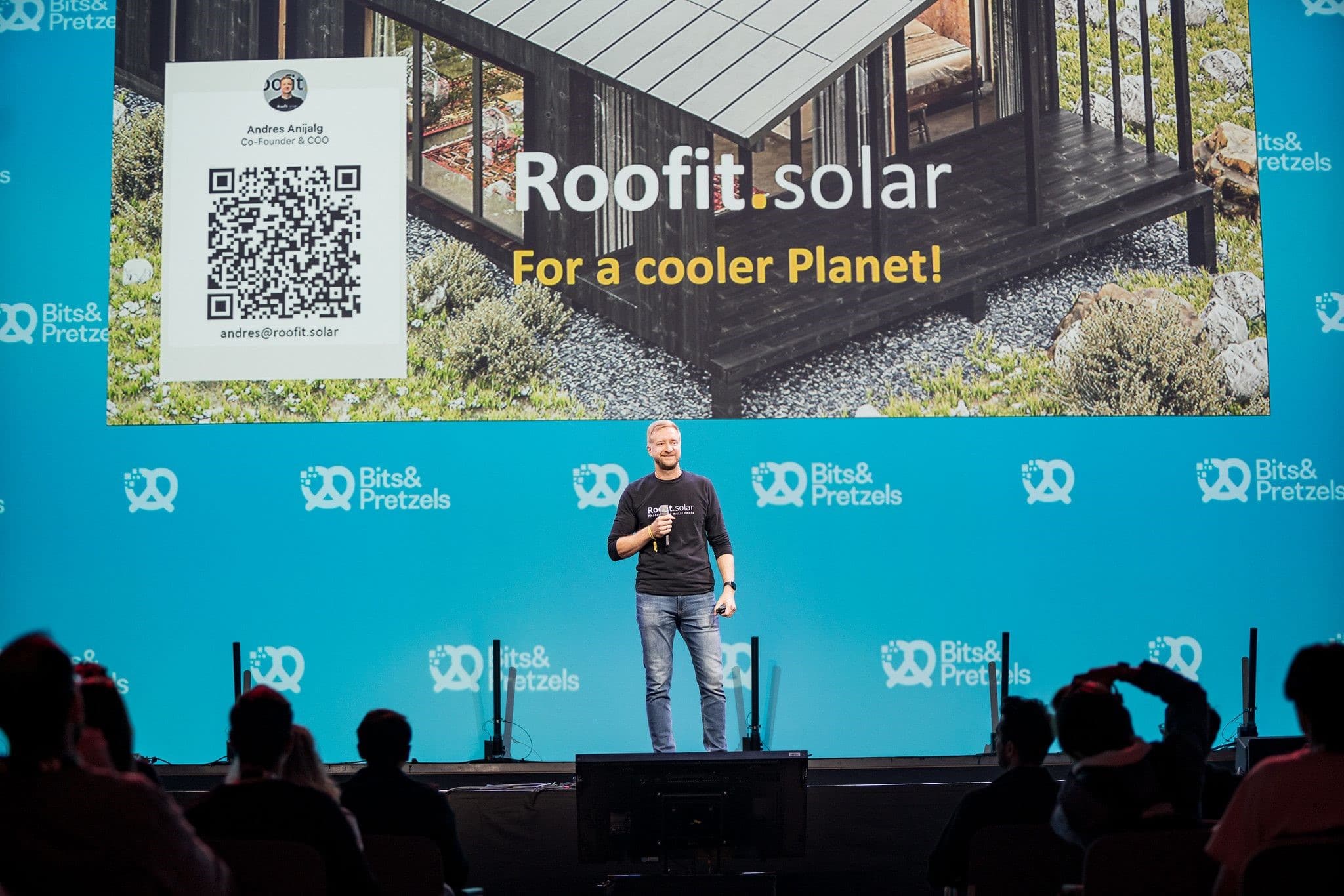 October:
October was full of events – we participated in

Brussels Kart Expo

, Belgium, where we collaborated with our partners, met great people wanting to go solar, and introduced our integrated solar rooftop solutions! 

Our partner Metigla participated in

Belgian Roof Day

  and introduced our 2-in-1 solar rooftops to the Belgian market. 

We were profiled in the new

Net Zero Future50 report

– CEE edition, released by PwC Central and Eastern Europe in partnership with Wolves Summit. 

Closing the month with exciting news –  we set a new record revenue this month!
November:
Our team participated in

Building Green Exhibition

in Copenhagen, Denmark, where we introduced our integrated 2-in-1 rooftop solutions.
Andres Anijalg made a presentation at PITSTOP@ENERGY VENTURES 2022 by

BayWa.r.e.

and shared insights into the solar trends and Roofit.Solar rooftop solutions.

Helen Anijalg shared our company's inspiring story with the participants of the

Telia Digital Hub

and introduced our vision to help build a cooler planet and empower individuals to produce their own energy. 
Side note, did you know that Roofit.Solar was born out of a personal need?
If that sounds interesting enough, read our story and get your daily inspiration!
December:
Roofit.Solar sales team in Stockholm doubled in size. Watch out, Sweden, the metal solar roofs are coming to stay!
2022 highlights from the team
"For me, the 2022 highlights have been our new website and visual identity. Happy that our new branding truly reflects us!"
Meelis Reiman, CMO 
"My highlights of the year were establishing our Swedish daughter company and recruiting the first 3 sales gurus in Stockholm."
Helen Anijalg, Export Manager
"For me, 2022 was the most fantastic year founding the Swedish daughter company. Hiring the most dedicated team I have ever worked with was the icing on the cake."
Eric Pettersson, Country Manager, Sweden
" The team growth and alignment were the highlights for me. We also got top-notch references this year such as the University of Tartu, Estonia; the National Library of Estonia, and the Naantali project in Turku, Finland. One of the other 2022 highlights for me is, the realization from my colleagues that Ando is awesome!"
Ando Konrad, Sales Lead in Sales Support 
2023 Vision
With our truly awesome team and our even stronger product line, along with exciting upcoming products, we are ready to take on new challenges in 2023!
While our focus will be on innovation through product development, we are also excited about growing our team with the best talent and building effective expansion strategies.
The energy crisis is expected to continue to 2023, and high energy prices are here to stay. As a new and smarter energy alternative, solar energy will continue empowering more individuals and companies to be "prosumers", both producers and consumers.
"At Roofit.Solar, we have seen solar roof owners profit from and enjoy their solar roofs since 2016. 
With current political-economical developments, we predict that solar will become part of the everyday architecture in the next few years. This means that the time is now ripe for a solar roof of everyone's own – not only as an investment but as a logical step on our path to a cooler planet."
Andres Anijalg, Roofit.Solar Co-founder & CEO