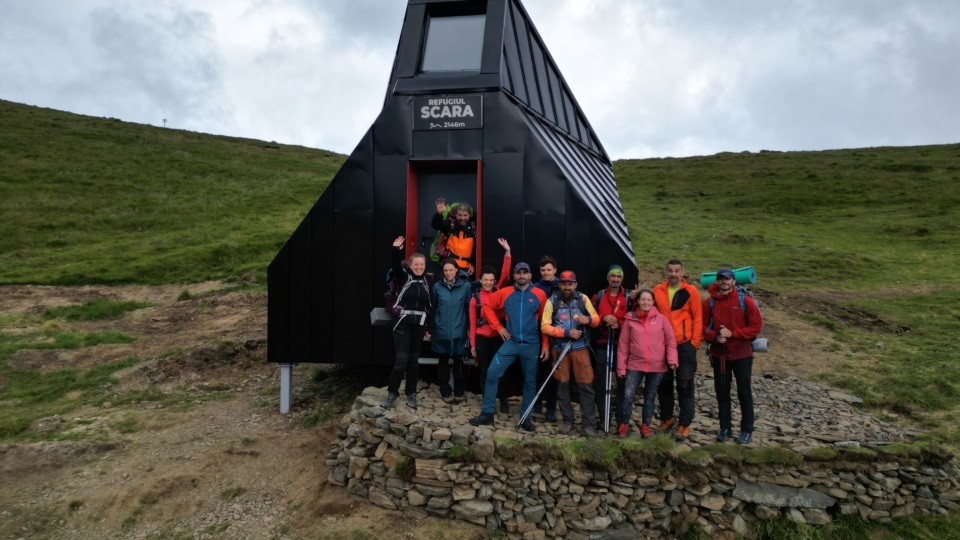 When a company has a motto like 'Keep the planet cooler', even with an innovative product, a great team, and a strong vision, success is not guaranteed – solid partnerships always reinforce the rest. In order to cover more buildings with our integrated solar roofs across Europe, Roofit.Solar started cooperating in 2022 with Metigla, a producer of innovative metal covering solutions, present on the Belgian and Romanian construction markets since 2000.
To learn more about the synergy between Roofit.Solar and Metigla, we had the pleasure of sitting down with Olivier Somers, the Continuous Improvement Manager at Metigla. Discover how this partnership has not only contributed to our and Metigla's individual projects but also catalysed a broader sense of business inspiration.
Join us as we unveil the story behind this meaningful collaboration and how it is igniting a passion to create a greener, more sustainable future.
1. Can you give an overview of the history of Metigla?
Metigla is a family-owned company that was founded 40 years ago in Belgium and has been present on the Romanian market since 2000. Previously operating under the name of Coilprofil, it adopted the name "Metigla" in Romania in 2018. We are a fully independent company, 100% Belgian-owned, focusing on covering commercial, residential, and industrial buildings, all types of houses and facades.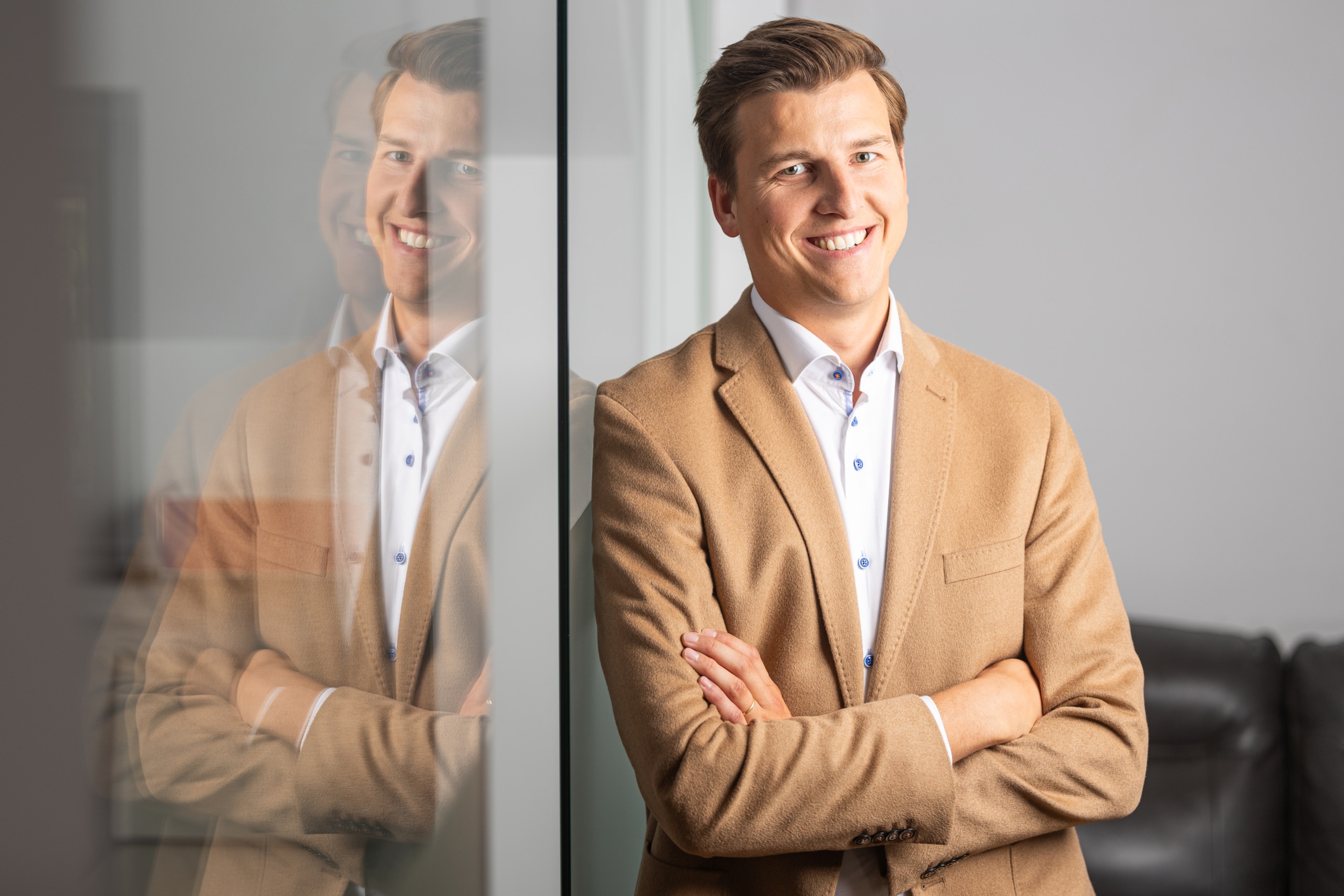 Metigla's portfolio offers solutions for high-quality metal cladding for industrial and residential projects, facades, and roof drainage. In addition to Romania, we are also present in Belgium, France, Holland, Luxembourg, and the Congo. We have partners all over Europe. 
To sum up, we invested 8,5 million euros in the last four years, we have 15,000 m2 of production and storage area in the Ceptura factory in Prahova, Romania, and we have over 100 employees.
2. What does Metigla stand for? What are your corporate values?
In 2022, Metigla Residential covered an area of approximately 600,000 m² of homes, which translates to accommodating more than 5,000 families. We are also growing and celebrating new milestones every day. 
In July this year, we celebrated a remarkable project in Romania where we integrated Metigla roofs with Roofit.Solar's solar roofs at an impressive height of 2146 metres!
We owe our success not only to our products, team, and solid partnerships, but also to our mission, vision, and values. 
Our mission is to cover the well-being of people and businesses with a smart, sustainable, and innovative roofing solution.
This is how we define our vision:  
"Through our passion and experience, combined with continuous development and smart work, Metigla is your long-term partner in covering your future by providing you with premium covering solutions."
Our values are the other drivers of our success. We value the quality of and in everything we do, partnerships, development, teamwork, passion, and, of course, commitment to what we do. 
This is why we have had fruitful conversations and great projects with Roofit.Solar – our values align.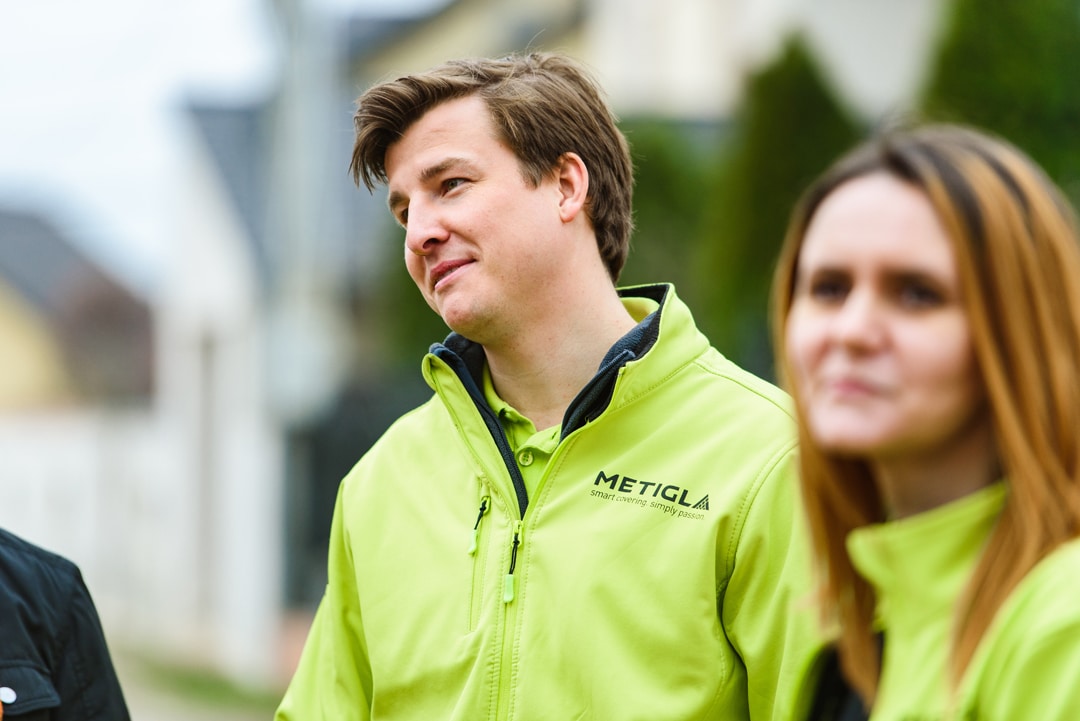 3. Have you noticed an increasing interest from your customers in environmentally friendly and energy-efficient roofing solutions, such as solar roofs? What do you think about the future of solar energy?
In recent years, more and more customers have become interested in solar energy. Solar is more than a trend; I strongly believe it's the future. 
Every day, we confront the harsh reality of global warming. Within the European Union, buildings play a significant role, contributing to 40% of energy consumption and 36% of carbon dioxide emissions. 
Over the last period there has been a growing interest in solar panels, also in Romania. However, there is more to be done to increase the awareness of BIPV (Building Integrated Photovoltaics), as this is very new.  Metigla is at the forefront of this, and we are working to change the mindset. 
As a note, Romania has about 210 sunny days per year, which offers good potential for solar roofing. Additionally, there are legislative initiatives to encourage consumers to become prosumers, producing energy for their own consumption but also for the grid.
The Belgian market is more mature in relation to solar panels, where you can see that BIPV is winning popularity. However, the metal roofs in the Western Europe market are not yet the full standard where you see more ceramic roofs.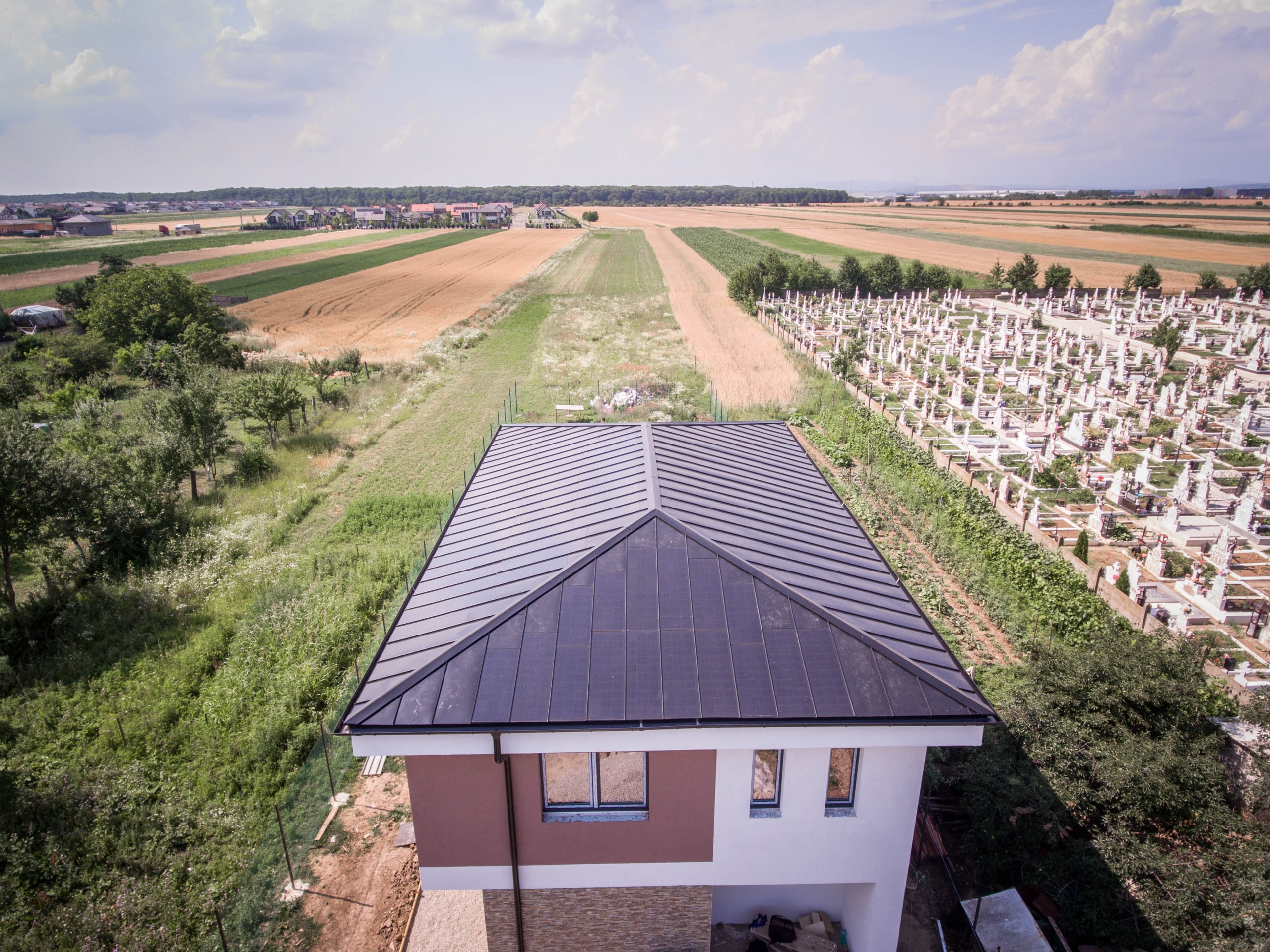 At Metigla we are constantly developing new roof profiles every 2 years to stay ahead and solar is definitely part of our strategy. As a roofing company, we always ask ourselves, "How can we be part of the solar revolution? How can we provide our clients with the perfect solution that we are supporting?" 
Answering these questions, in terms of roofing solutions, one of the advantages we didn't want to compromise on was the aesthetics of the Metigla roof.  So, we looked for a partner whose support we can continue to compliment the architecture of every home with a green energy roof. 
The future of solar energy is bright. It's going to be integrated into our lives and set new standards. 
4. Where did you first hear about Roofit.Solar? 
As I mentioned earlier, we have been looking for ways to be part of the solar revolution and stay ahead of the curve. 
While researching solar rooftop solutions across Europe, we came across Roofit.Solar (thanks to LinkedIn). The quality is premium, the team is great, and the roofs looked beautiful. We got in touch and started discussing BIPV solutions and integration.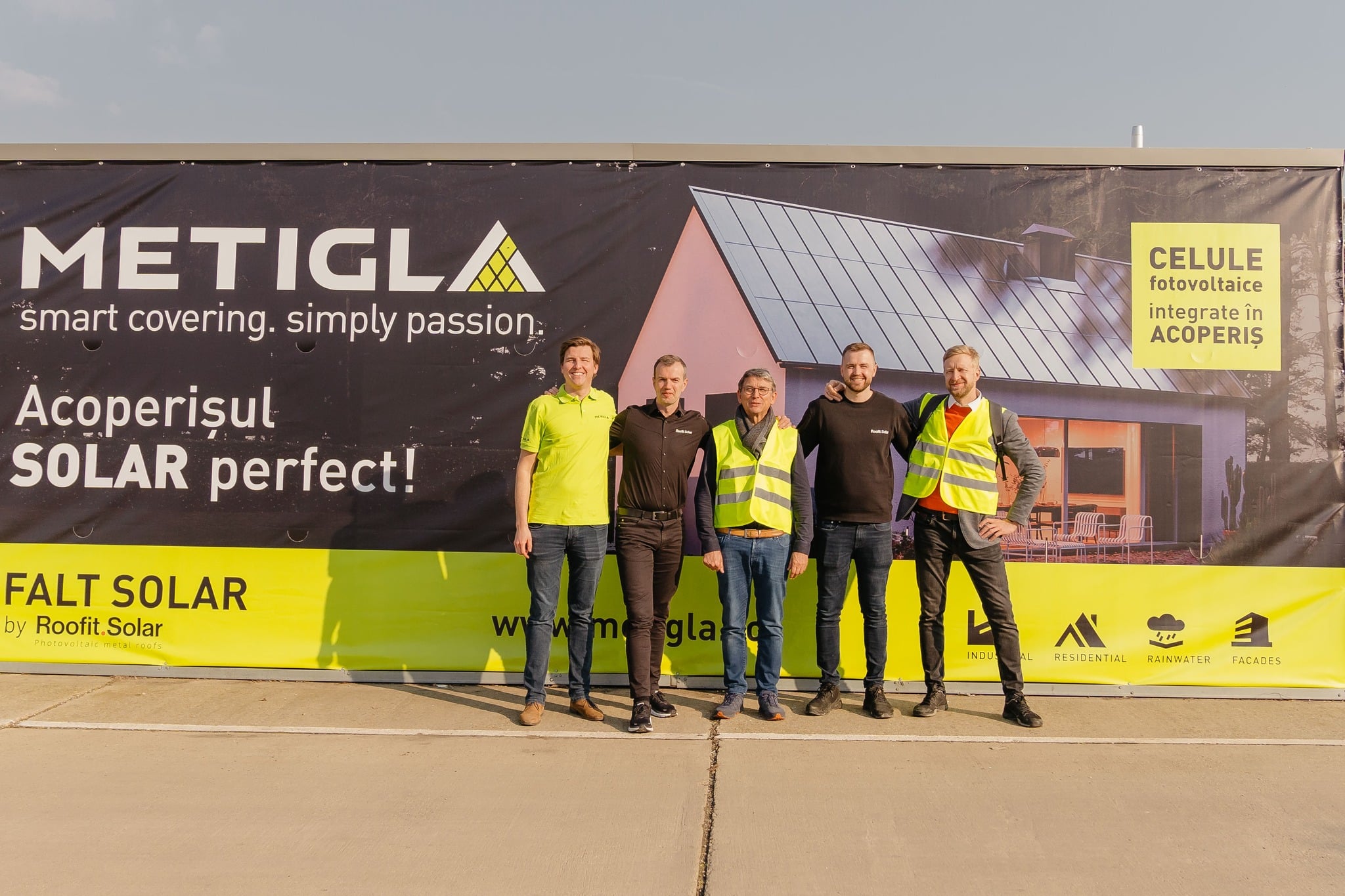 After the launch in 2023, we have been covering more and more buildings with Roofit.Solar, already leading to 7 number of projects in Romania and 6 in Belgium.
"We 'invented' this type of roof because solar panels need to be taken to the next level. It is also a matter of aesthetics, we want the houses to look good, but also to be energy efficient. Metigla found us, and that's how we ended up working together."
Andres Anijalg, Co-founder and CEO of Roofit.Solar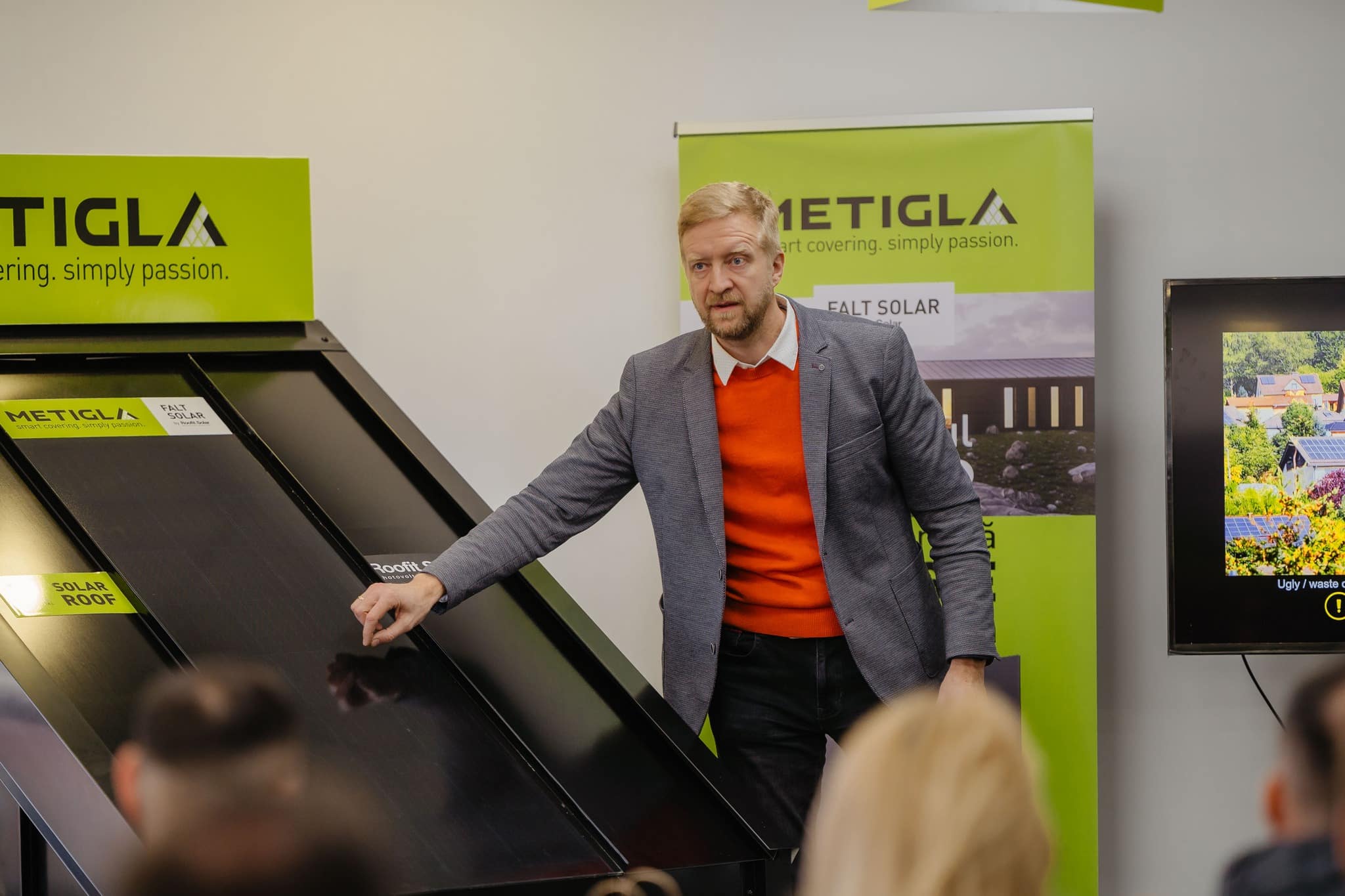 5. How do you see Roofit.Solar complementing your services and vice versa? 
Roofit.Solar's rooftop solar solutions fit perfectly with our history and mission at Metigla.
Firstly, we are committed to quality and aesthetics, and our mission is to cover more buildings with our premium, innovative, and smart covering solutions. So I agree with the Roofit.Solar team: "Solar energy shouldn't be at the expense of home aesthetics".
"Roofit.Solar's knowledge of solar and our expertise in the roofing industry, metal roofing, is a great combination. A match made in heaven – definitely the right way to go!"
Olivier Somers, Metigla's Continuous Improvement Manager 
Roofit.Solar's products fit perfectly into our projects, making them even more beautiful with BIPV. The integrated solar roof generates green energy for the entire home without altering the building's architecture, whether it's a house, a larger real estate project, or a heritage building.
The innovation of this product lies in the seamless combination of two high-quality components – the photovoltaic panel and the roof – both technologically and aesthetically. There is no need for separate solar panel installations on the roof, as it provides weather protection and electricity from renewable sources at the same time. Roofit.Solar does it all.
Our General Manager, Cristian Mătășel, describes it as "the perfect roof that fits perfectly into the story of my home, yours and all homes, like a well-tailored coat".
The second point is that solar will be part of our daily life and, as I said, we are at the forefront of this in Romania & Belgium. Roofit.Solar reinforces our vision in this sense. The combination of roofing and solar expertise is a complete solution.
6. What has been your most memorable project with us so far?
The most memorable projects for me so far have been our first buildings together in Belgium and Romania. As Roofit.Solar CEO Andres said it was like "giving birth to a child, because it takes a lot of effort, planning, and coordination". So when you see the 'result', it's a very special feeling.
Recently, at Șaua Scării in Făgăraș Mountains, a new refuge for mountain lovers has been built, close to the old one still in use.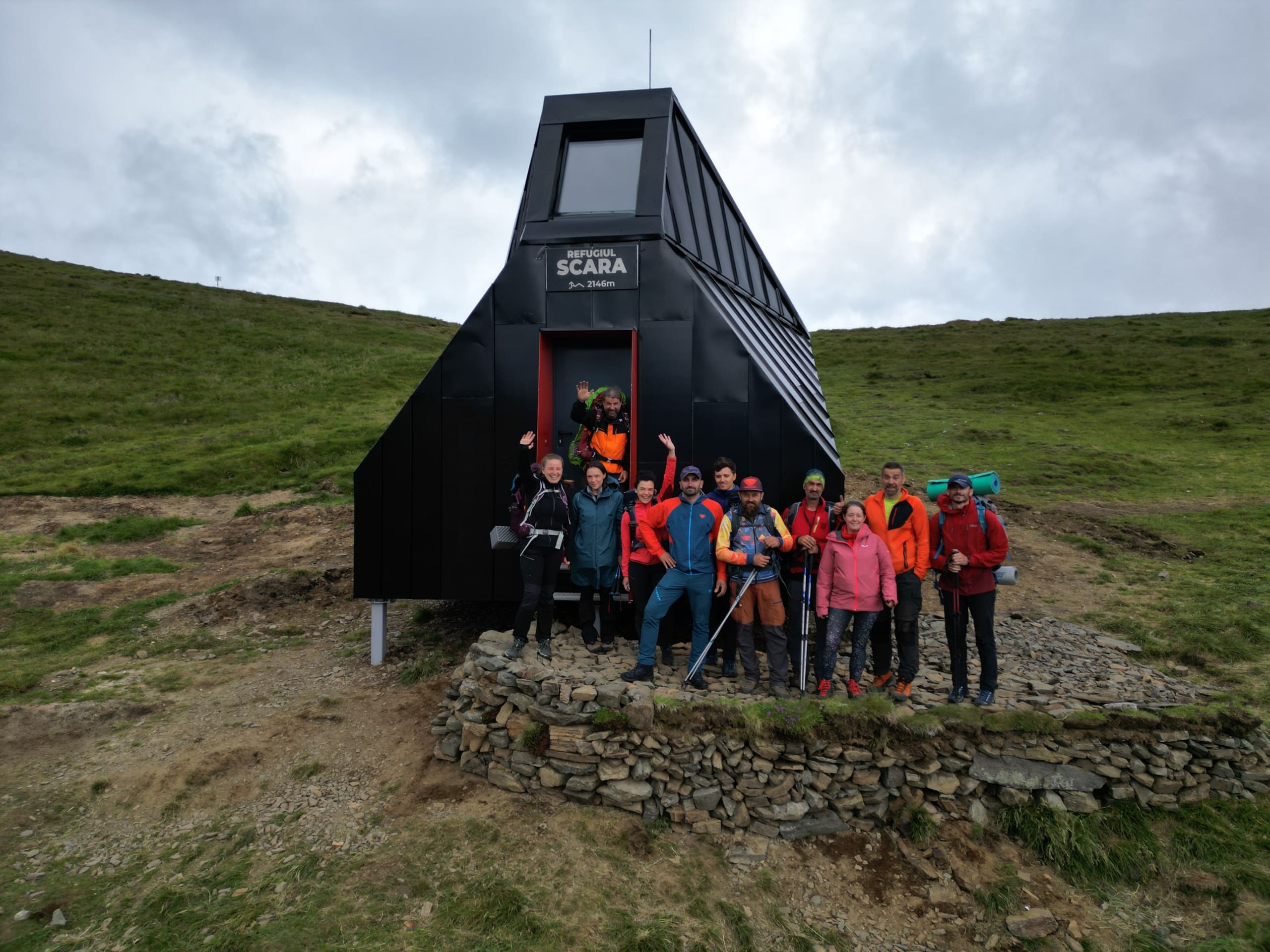 Congratulations to all the teams and individuals who made it happen at Șaua Scării: Metigla, Roofit.Solar, Asociația Montană Carpați, Ovidiu lordache, Anca Loghin, ERGIO, Solartech, Gabi Căpuşan , and all the volunteers.
The new refuge has an area of 36 square meters, will accommodate up to 18 people,  and is protected by Metigla's Roofs combined with the Roofit.Solar panels with an installed power of 1.6 kW. This is the highest Metigla & Roofit.Solar roof in Europe!
"Both companies complement each other and that's important. With Roofit.Solar, we will be trendsetters in the world of roofing."
Olivier Somers, Metigla's Continuous Improvement Manager
7. What's your vision for Metigla?
Our main focus for the coming period is to continue to cover the well-being of people and businesses through smart covering solutions with premium quality steel. The organic and continuous growth of Metigla's product and service portfolio is based on innovation, premium quality, passion, and, last but not least, sustainability.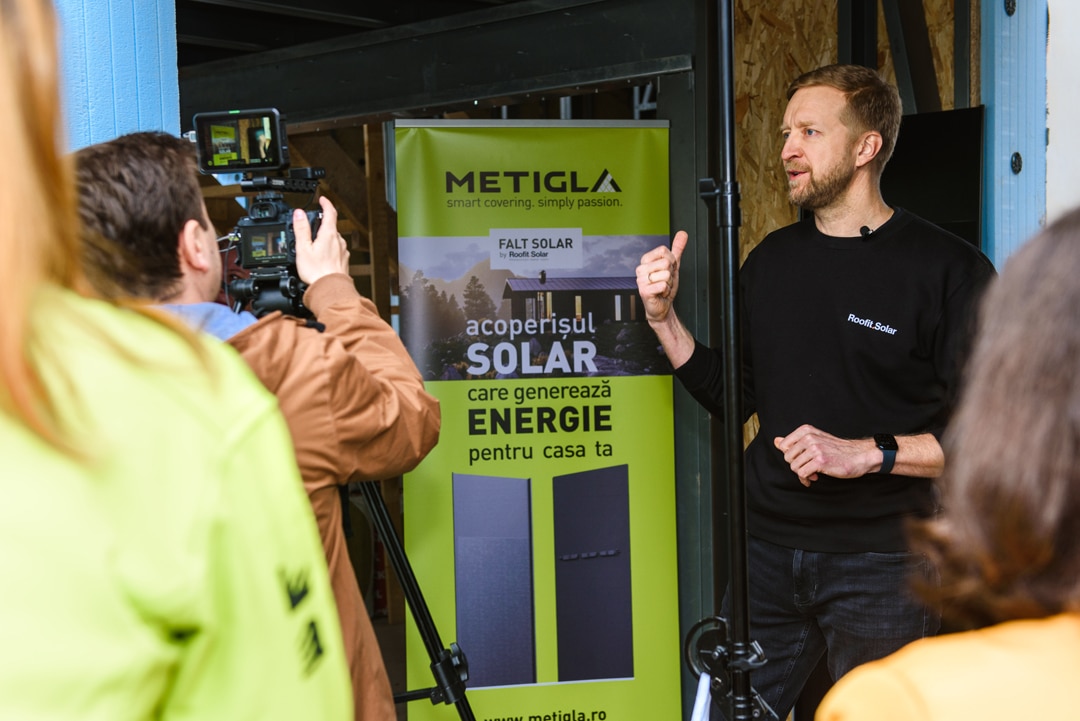 Both companies complement each other and that's important. With Roofit.Solar, we will be trendsetters in the world of roofing.
Roofit.Solar's knowledge of solar and our expertise in the roofing industry, metal roofing, is a great combination. A match made in heaven – definitely the right way to go!
Learn more about Metigla in this video (in Romanian)!